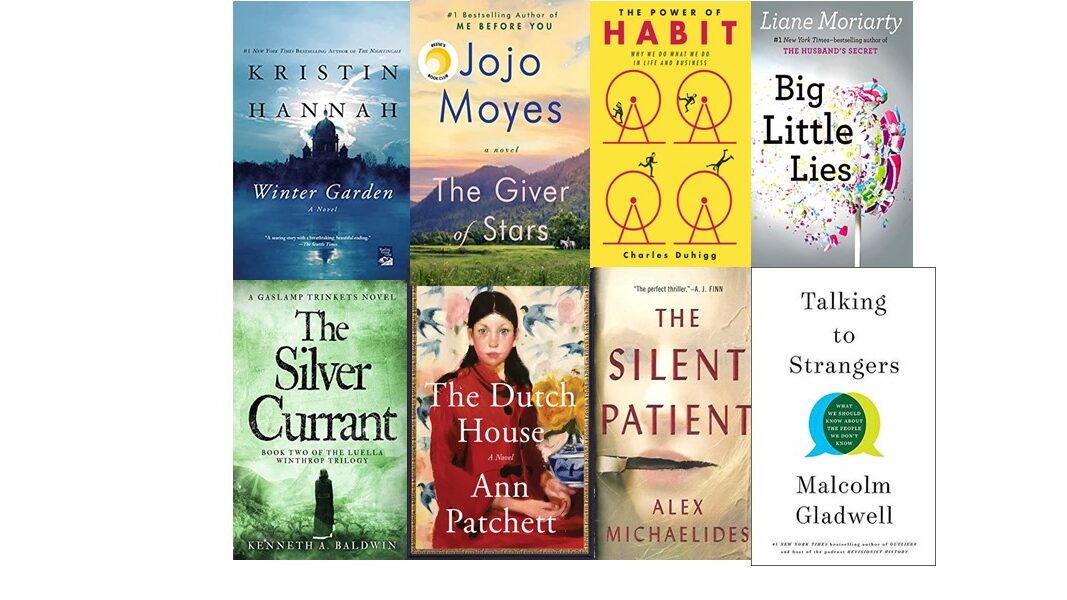 Nine Perfect Strangers by Liane Moriarty. I read this for my old lady book club. The plot took some bizarre turns. It jumped a shark for me. There are better Moriarty books for you to read. (there's some profanity and innuendo in this book but no sex scenes)
Crazy Rich Asians by Kevin Kwan. This book was fascinating for the extreme culture shock. I admit I saw the movie first and liked it better. This book isn't the romance I was expecting. It's more about the lifestyles of people who have more money than I can possibly imagine. (there is profanity and some sexual content in this one)
Sharp Objects by Gillian Flynn. Flynn is one of my favorite thriller authors. Her unreliable narrators are among the best. The narrator travels back to her hometown as a reporter to investigate a couple murders, forcing her to confront her own childhood demons. Creepiness ensues. (there is profanity and a few sex scenes in this book)
Miss Peregrine's Home for Peculiar Children by Ransom Riggs. Finally picked up this ubiquitous YA novel. My husband read it a while back and said it wasn't that great. For the first few chapters I thought he had sorely misjudged it but then the plot took a turn for the worse. Disappointing. All the more so because it started out good. (this book was clean except for some biblical swearing.)
In Five Years by Rebecca Serle. I kind of liked this book? I wanted there to be some kind of lesson learned at the end and there just wasn't. A girl is transported forward in time five years for like an hour, then goes back to her normal life. What she experiences in the future affects how she lives her life for the next five years. Interesting. I liked that the main character is Jewish and the sweet friendship portrayed between her and her lifelong best friend. (sex scenes and profanity)
Talking to Strangers by Malcolm Gladwell. You should definitely listen to this as an audiobook. It is narrated by the author and wherever possible he includes sound clips from the interviews he did and from primary sources (like radio and TV news). It's definitely a downer. It covers police brutality, child molestation, sexual assault, Cuban spies and suicide. But it is really fascinating. Worth listening to if you, just read something light afterwards. (this book is free of profanity except in quotes and the studies don't get too graphic in their sexual content. Still, I wouldn't hand it to a teenager unless you're ready to have some pretty serious conversations.)
Big Little Lies by Liane Moriarty. So much better than Nine Perfect Strangers. I could not put this book down. Her story centers around the politics of elementary school parents. A beautiful portrayal of the power (for good or evil) of female friendships. (there is profanity and sexual content in this book)
The Power of Habit by Charles Duhigg. If you want to change or understand your habits you should read this book. It took the mystery out of why I can't seem to say no to a sweet treat at around 3pm. All the research is there but it's conveyed in an approachable way. It's complete with a practical guide on how to kick a bad habit at the end of the book.
The Giver of Stars by Jojo Moyes. This is not even close to being as heavy as Me Before You, so if that one was too much for you don't discount this sweet book. Another great book about the power of female relationships. It will also warm the heart of any book lover's soul. This is a story about the horseback mobile libraries that traversed the Appalachians in the 1930s. This is a five star book for me. I highly recommend it. (biblical swearing and sexual innuendo but no content)
The Silent Patient by Alex Michaelides. This might have the best twist ending I've ever read. No, that can't be when Agatha Christy exists but its up there for sure. The author made some great strategic choices about storytelling to give the twist its maximum impact. For anyone who likes thrillers. (there is a lot of profane language in this book. There is also a sex scene. not for kids.)
The Dutch House by Ann Patchett. I really loved this book. It didn't hurt that I listened to it and it was read by Tom Hanks. I'm pretty sure he could read anything and it would become fascinating. (see below). I think this book is worth reading. It's literary, there's not a lot of action. It's definitely character driven and the characters are flawed. Some of my friends did not enjoy this book. Probably the same ones that didn't like The Poisonwood Bible. (there are some isolated swear words. I counted three. no sex. I would recommend this to precocious teenagers 14+)
Little Fires Everywhere by Celeste Ng. This is a book club read. So much to talk about! This is another interesting portrayal of suburban life with its pros and cons. Very interesting. (there is swearing and sexually active teenagers portrayed in this book.)
Winter Garden by Kristin Hannah. This is my favorite Kristin Hannah book so far, and I really really loved The Great Alone. Set during the siege of Leningrad during WW2 and also in modern day Washington state. I highly recommend this book but it will make you cry. (there is some isolated profanity and a couple of non-graphic sex scenes.)
The Crimson Inkwell by Kenneth A Baldwin. I think the only other gaslamp fantasy (historical fiction + fantasy) novel I've read is The Night Circus. This one is a lot more character-focused as opposed to setting-focused. A female writer (with a male pen name) gets caught up in magic to further her career, becoming unwittingly addicted to it. Careful, it ends on a cliff-hanger. (there's no swearing or sexual content in this book. I gave it to my twelve year old who enjoyed it.)
The Silver Currant by Kenneth A. Baldwin. I liked this book even better than the first one in the series. It introduced an intriguing magic system and had a wonderful twist ending. (there's no swearing or sexual content in this book. I gave it to my twelve year old who enjoyed it.)
If y'all could only pick one of the above books to read I would pick Winter Garden if you want to cry and The Giver of Stars if you don't. Happy Reading!